Blog Home
How to Be More Grateful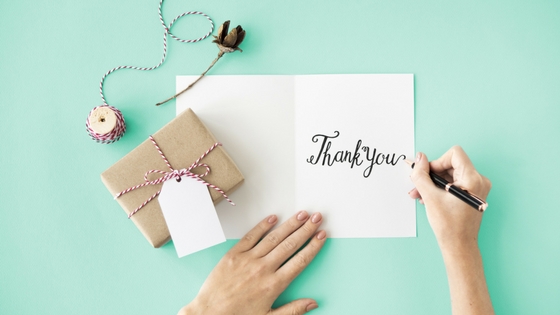 November, being the month of Thanksgiving, is also the month for remembering the importance of being grateful. Whether you're a pro or you think you could re-dedicate yourself to being thankful, today is the perfect day to focus on gratitude. Find some ideas for being more grateful in today's Residences at Great Pond Blog post.
Write it down.
Being grateful is as easy as grabbing a notebook in your apartment and writing your thoughts down. Do this at a time that works well for you every day so you can get in the habit. You never know what may happen — you could train yourself to look for good throughout the day knowing you'll have to write about it later, or you could discover that doing this puts you in a calm, happy mood before you head to bed.
Get inspired by others.
Life is difficult and things don't always go the way we plan for them to go. But you can be grateful, regardless of these factors. If finding things to be grateful for is difficult for you, talk about your efforts or your struggles with someone you trust. Ask them what they're grateful for. Talk about the qualities you appreciate in each other or in people you both know so you can have that extra support with more ideas for things to be grateful for.
Thank someone.
The most obvious way to show gratitude is to actually say it! If this is out of the norm for you, it may seem awkward and maybe even a bit scary. But anyone will appreciate a simple, "thank you," especially if you make it sincere and specific. The more you do it, the more natural it will feel!
Pay it forward.
You don't have to spend a lot of your own resources to be grateful, but finding ways to serve or do good for others in simple ways is meaningful for you and the recipient. Tip your server at a restaurant heavily, offer to pay for the meal of the person behind you the next time you're at a drive-thru, or volunteer at a homeless shelter, humane society, library, or other community center. Donate to a cause you believe in or to one of the many relief efforts for people recovering from recent natural disasters. Your contribution matters and will help you do some good after you've appreciated the blessings you have.
How do you stay grateful? Share your ideas with the rest of us by leaving a comment. Thanks for reading! Good luck, and enjoy. We hope you have a fulfilling, happy Thanksgiving in or out of your apartment in Randolph, MA.